Bronze Age: Space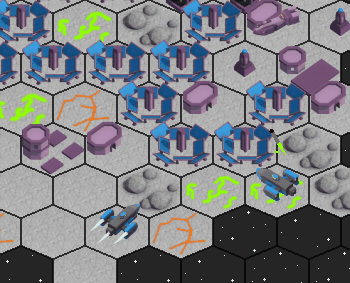 Bronze Age: Space is a total conversion mod for Bronze Age, converting a fantasy-historical city/empire builder into a space 4X.
It is also designed to show what is possible within a Bronze Age mod. The entire mod is open source (MIT license), and can be found on Bitbucket.
New World
A new world generator has been added, creating a region of space filled with planets and asteroids. This new world type has resources needed for the new races, and lacks resources needed by the vanilla Bronze Age races.
New Races
Terrans
Spacefaring humans, with a variety of ships, and an economy that favors settling on both planets and asteroids, and trading between them.
Seekers
Mysterious aliens that are best suited to living on asteroids. They have a strict caste system, where their best structures and units require a member of the nobility to operate.
The seekers tend to keep to themselves, but you may be forced to attack them in order to access the precious Tritium that can only be found on asteroids.
New Events
Pirates plague the spacelanes, and will occasionally demand tribute. Don't take them lightly, as their attacks will get more vicious as your settlements grow larger.
Useful Links
Issue Tracker - for upcoming features and known bugs
Download
Click download now to get access to the following files:
bronze-age-space-trunk.zip
1 MB