Bronze Age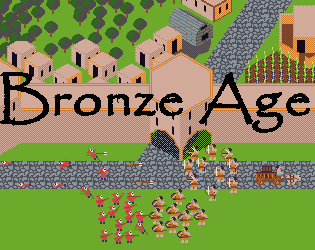 At long last, 2.0 is here. This release might be a little rocky, as the entire game has been pretty much re-written since 1.4.
Major Features
This Might As Well Be A New Game
Entirely new, hex based world. There is much less emphasis put on individuals, with the focus moved up to cities and groups of people. The UI has been entirely redone, and should hopefully be much more usable. The game itself should be a lot more stable as well, with fewer crashes during gameplay.
Economy
The economy now places an emphasis on the production and consumption rates of items. Warbands and trade wagons are a constant drain of resources, instead of an up-front cost. Bakeries constantly drain wheat to keep your people fed as well.
Settlements
Settlements now grow organically when sufficiently fed. There are three levels of hunger: starving, hungry, and well fed. Starving settlements don't grow at all. Hungry settlements need 1 food per person (a bakery feeds 10) and grows slowly. Well Fed settlements need 2 food per person, but grow twice as fast.
Settlements are also tied to regions, and can only place buildings within that region.
Road connectivity is important. Trade happens between Admin Centers (the tents placed when you settle), so the path between them needs to be clear. Tradehouses, and barracks need to be road adjacent so that the units have somewhere to go.
Modding
The game supports graphics, data, and logic mods. I'll document the modding API over the next few weeks on the wiki, but for a start you can look inside "BaseMod.zip" at the root of the Bronze Age directory. That zip file contains everything the core game needs to run, and should serve as a good guide. There are also two example mods packaged with Bronze Age, which can be found in the "mods" folder.
Graphics mods should be easier to make than before. The sprites are no longer in an atlas, but stored in individual files (animations are still in an atlas). When loading mods, any duplicate file names will be overwritten, so you just have to name your replacement sprites the same as the originals.
Known Issues
Trade logic is a little iffy when settlements have more than one trade route. Some trade routes may get ignored for a time.
Masklings are rather shy, and mighty not bother you much.
Files
bronze-age-windows.zip
45 MB
Version 2.0.0
Nov 04, 2017