Bronze Age
Preview - New World Generation
---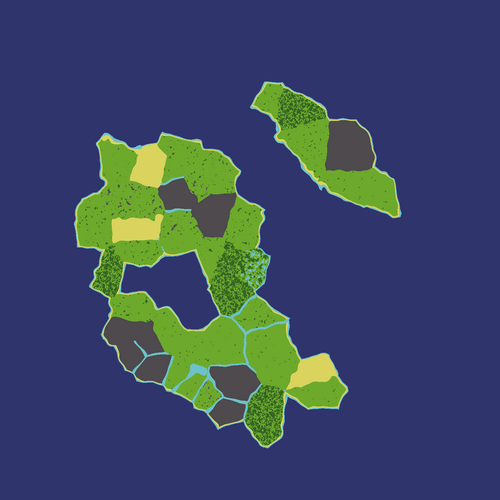 1.5- World Update
The goal of 1.5 is to make the world more interesting to interact with, focusing on new biomes and AI.
New World Generator
Settlements Tied to Regions - as discussed here
Smarter Masklings - Masklings should behave as rational actors, defending territory and seeking resources, not just homicidal maniacs. They should also operate their settlements more like the player.
More Maskling Types - Add rat riders and blowgunners to the current Maskling spearman
Neutral Villages - Villages of humans for future trading and diplomacy, and also where immigrants come from.
New World Generator
The first part of this is reworking the world generator. In 1.4 Bronze Age generates the world as you explore it, this has certain benefits (quick startup time, for one) but also downsides. The major downside that the shape of the world isn't known until the player explores it, this makes developing a higher level AI for Masklings more difficult.
So, to support smarter Masklings and Region based settlements the whole world has to be generated up front. I'm about midway though the rework, and am adding some new biomes in the process. The picture above is a medium sized world from the new generator, which includes a few of the new swamp biomes. As you can see the world is surrounded by water, which should serve as a nice natural border to hide the borders. From the overall view the regions are fairly visible as well. There are lots of tweaks and optimizations yet to make (I'd like to see that inland sea go away, for one).
The new world generator will also come with several options. You'll be able to pick world size, population cap, hostility, and the world seed.